Great initiative! Hi, I am Esmeralda, the proud owner of Oksana, daughter of Aleksandr and Nisa who live at Anke's cattery Azadeh. She is pictured in this message. I also own a 'fake' Russian Blue neutered male (mother Russian Blue, who gave him his looks, father Holy Birman), named Boris, who is Oksi's best mate.



Posts

: 5


Join date

: 2007-09-30


Age

: 51


Location

: Spijkenisse, Netherlands



Hello Esmeralda,

Beautiful your nebelung, Kazu who lives at my place is the grandmother.

Regards, Kirsten



Posts

: 263


Join date

: 2007-09-28


Age

: 43


Location

: Groningen - the Netherlands



Hi Esmeralda,
Nice to meet you here.
Beautiful picture!
I recognize this look in her eyes. Oksana resembles our Olena a lot, which is not that surprising since they are from the same litter.

I will try to make some new pictures soon and post them on this forum.
Greetz,
Ciska



Posts

: 39


Join date

: 2007-09-28


Age

: 53


Location

: Netherlands



Nice picture ! Please show some more

It's been a long time, so it's about time for an update about beautiful Oksana. Oksana is a very sweet cat, I've never seen her angry. Her character is 100% Nebelung: she only seems to like me as her human friend unfortunately, she does not like my husband (although he has never been mean to her) and the kids are not her favourite either, although she sometimes allows them to pet her. She talks a lot, and when I say a lot, I mean a lot. She is a nightbird, sleeps all day, wakes up at night to start screaming and scratching at our bedroom door and then wants to go outside. She's confused about going out though, always screams my head off when the doors are closed, but then when she's finally outside, she wants to go back in at the same time. She never goes far, the garden is her territory, and she does bring home a mouse every now and then. She still adores her main man, our half Russian Boris

, who likes to explore the farm land and is a lot more adventurous.
Oksana's fur is just gorgeous, very long haired all over, in winter as well as in summer and with little maintenance. Her eyes are more green than yellow, really beautiful.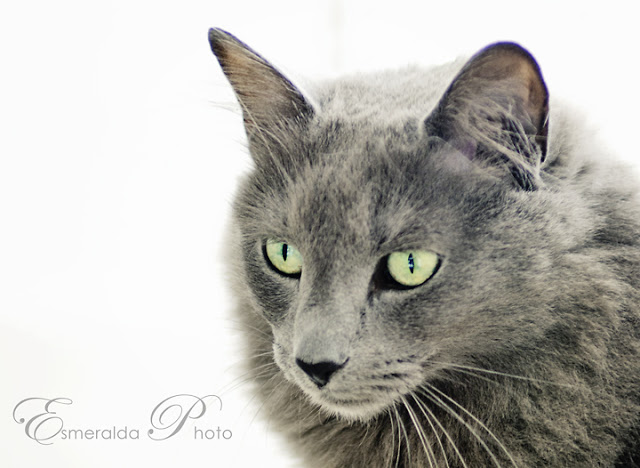 Posts

: 5


Join date

: 2007-09-30


Age

: 51


Location

: Spijkenisse, Netherlands






Posts

: 634


Join date

: 2007-10-02


Age

: 70


Location

: France/Ile de France




---
Permissions in this forum:
You
cannot
reply to topics in this forum