Page 2 of 2 •

1, 2


Cats are so stupid.... Even when very ill they try to keep appearences up and behave as normal as possible. So nobody will notice their weaknes and threaten their position in the group. They do not run up to you and say.." hey I'm not feeling well, but try to mask that it for the other cats".
For me group dynamic is one of the best ways to check the cats health. If the group behavior changes I look extra at their health.

I your friend will feel better soon....
(P.S. I would be very carefull to to put him back in the group when he gets home. He smells strange etc. and might not be recognised as himself strait away. I would keep him separated for a few days so he can blend in again. )

Anke
Hi @ all,

Atilla is back home. The diagnosis ist FLUTD. It is still painfull for him because he had some complications but only the summary of them was unusual.

For all: be careful, that your cats do drink! And if they do, they should more!

Have a good and healthy time ;-)

Damijan
Back on topic:
GOOD LUCK to all of you participants in Wassenaar. Would be glad to be there too, but now YOU have the chance to make the "bis"

...
best regards,
Damijan
Tout est prêt pour le départ.
Il y a même la neige....

I hope everyone had a fun day @ the show
and I look forward to results


Jaimy




Posts

: 149


Join date

: 2009-02-12



Voilà, nous sommes rentrés.
Le bilan de l'exposition est plutôt négatif.
Le Nebelung à été oublié. La présentation semble avoir été oubliée.
Le Best Variété Nebelung a été remporté par Elliott. Il a enchanté la Juge Britannique.
We are back home.
Basically the show did not go well.
Nebelung were forgotten. Presentation of the Nebelung seems to have been forgotten.
The Neb BIV was won by Elliott who really pleased the British judge.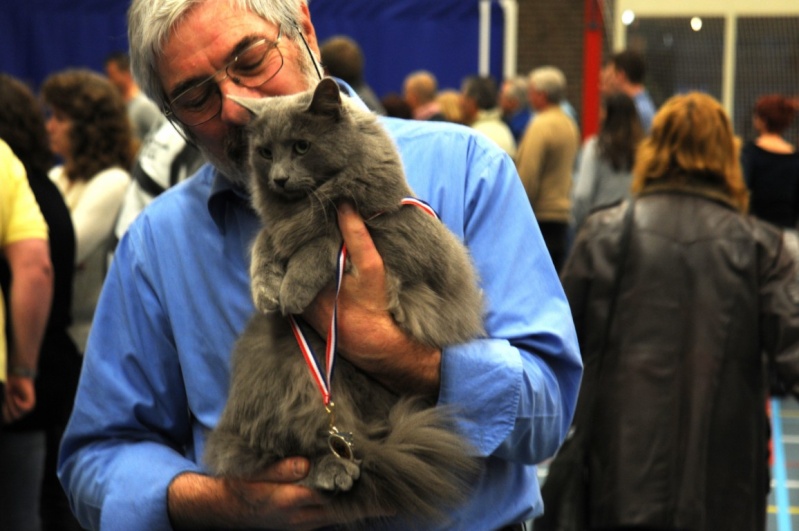 Elwing a été préféré au autres Bleu Russe. La juge à pensé qu'il était superbe. Beaucoup de gens sont venu le voir à la cage. Une juge très connue lui a même donné un ruban offert par un grand Club Russe.
Elwing was preferred to the other RB. The judge thought he was superb. A lot of people went to see him in his cage. A very well known judge even gave him a ribbon offered by a big Russian Club.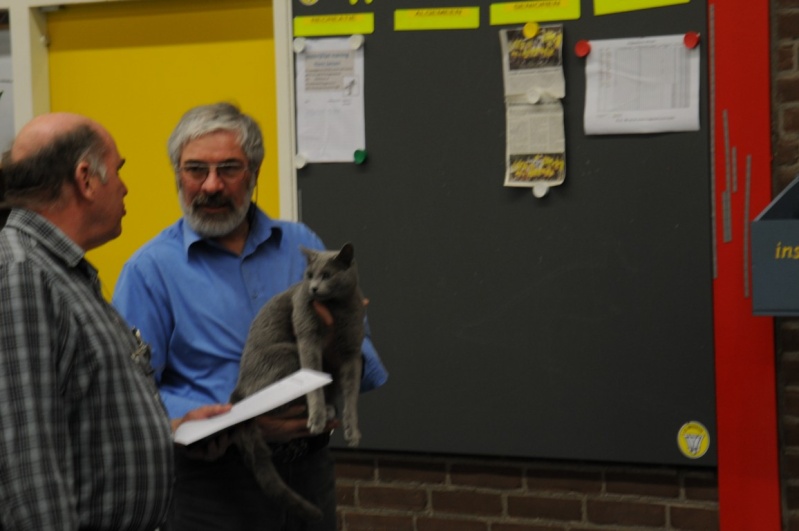 Ensuite une dame de l'organisation est venue demander à voir son pedigree.
Quelque chose n'a pas du plaire, car lors de la finale, ce n'était plus Elwing le vainqueur de la spéciale. C'est un chaton de la présidente qui a eu le prix.
Lorsqu'on inscrit un chat en exposition, on sait qu'il y a une règle du jeu. Il arrive que des choses bizarres se produisent. Je n'ai pas encore vu de choses pareilles.
Ceux qui ne sont pas venu ont bien fait de rester chez eux.
Le budget pour cette exposition était égal à une semaine de vacance à Marrakech. J'aurai bien mieux fait d'aller à Marrakech.
Then a lady of the show organisaton asked to see his pedigree.
Obviously there was something not right as for the Special, it was not Elwing the winner anymore. A kitten of the president won it.
When you register a cat to a show, you know the rules. Strange things happen. I have never seen it before.
Those who did not come did very well to stay home.
The budget for this show was equal to a week holiday in Marrakech. I should have gone to Marrakech.
Le seul côté positif est le plaisir que nous avons eu de voir Anke et Marleen.
The only positive side was the pleasure we had in meeting Anke and Marleen.
I am sorry to hear that it was such a great disappointment.

But I am glad we managed to make your day a little better.

I hope it does not scare you from coming to show in Holland again?

Marleen




Posts

: 321


Join date

: 2007-10-14



Je reviendrai avec beaucoup de plaisir mais certainement pas dans cette organisation.

I shall come back very happily but certainly not for a show of this club.
Hm, I´m sorry for reading such ..."experiences"... That´s a pitty.

But I would have been glad for being there too, just to meet all the faces behind the names in RL

- maybe next time...
Best regards,
Damijan
p. s. thank you for the pix, Bernard
I'm sorry to hear this news. I decided not to go. Without Noa a show is not so much fun. The weatherforcast wasn't that good and since I had no wintertires under my car I didn't want to take the risk. And hearing this I'm glad not to have gone.

Eleonora




Posts

: 19


Join date

: 2010-09-04


Location

: Capelle aan den Ijssel



Page 2 of 2 •

1, 2


Similar topics
---
Permissions in this forum:
You
cannot
reply to topics in this forum