I just recently watched a show on Animal Planet that showcased the Nebelung breed. I immediately noticed the similarities in my cat Tybalt, who I adopted a few years ago. Since he was a pound kitty, I didn't know anything about him other than he was a domestic longhair. Does anyone think he could be a Nebelung? I know its a long shot since the breed is so rare, but the resemblance was uncanny.
His temperament is playful but reserved with those he doesn't know. He is very affectionate, likes having his head scratched and will sit next to me but never on my lap. He constantly follows me around the house. When I first adopted him, they told me he was about a year old. At that time he looked like a short-medium haired cat with a long tail. It took him a while to grow into his long coat.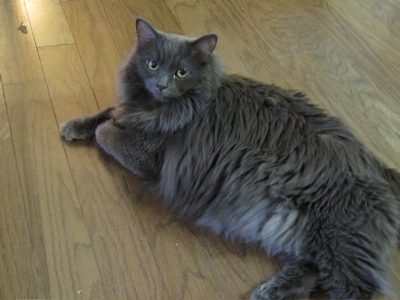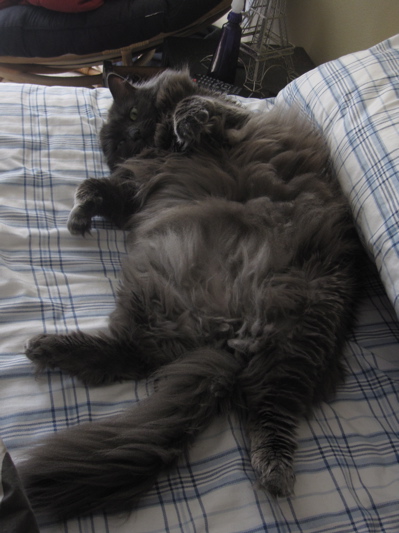 tybsmom




Posts

: 1


Join date

: 2011-06-04


Location

: Los Angeles, CA



Hello, welcome to the forum.
Your cat is a housecat (no pedigree - only a cat with a pedigree can be called a xxxxx i.e. breed's name) resembling a Nebelung.
He looks adorable and was lucky to have found you.

Hello,

welcome to this Forum. Your Kitty looks so cute, and each Kitty is for her/his owner the beautiest of the World.
Your Cat can be proud that she is your Cat.

Best Wishes from Germany
Michaela
Welcome to the forum!!! Without knowing your cats ancestory we have no idea but what he has in common is he is a beautiful grey cat! You are both lucky to have found one another and your boy is very handsome with a really stunning coat! Looking forward to hearing more about you and your boy,
Luv Valerie and the furry clan xxxxxxxxxxx

Sionnach




Posts

: 87


Join date

: 2010-12-10


Location

: Perthshire, Scotland



What a beautiful boy you have, looks like he is very laid back and friendly too


bluecats




Posts

: 15


Join date

: 2011-05-03


Location

: Adelaide, AUSTRALIA



Interesting. I just researched the Nebelung after watching probably the same Animal Planet show. Was it Cats 101? Anyhow, I think that my Graycie looks just like a Nebelung. No pedigree though, she is a rescued barn cat. She looks like a cross between a semi long haired gray cat and a Siamese. She has semi long silky gray hair. Her tail is long and fluffy. She has emerald green eyes. She looks somewhat exotic, somewhat siamese in ways. I think your cat looks like a Nebelung, though I am no expert and can't be proved if there is no pedigree. Regardless, he's a beautiful cat. My cat looks similar to your cat and seems to have a similar personality. Adopting a cat from a shelter is a great thing to do.

sr14225




Posts

: 1


Join date

: 2011-08-20





Similar topics
---
Permissions in this forum:
You
cannot
reply to topics in this forum