To all of those wondering and asking that question, you already know the answer: No your cat is not a Nebelung.
A Nebelung cat is the result of long and careful selected breeding and as such can only be found with breeders. There are still very few of us. Yes at first 2 domestic cats were at the start of the breed in USA but a LOT of work has been done since then and is continued to be done.
A Nebelung has a pedigree establishing his lineage. And believe me, breeders do NOT let their cats roam freely around where they can catch mortal diseases, mate with any (sick) cat, etc. If such was the case, that breeder would very quickly have no breeding cats left and only his eyes to sob out the loss of his darling cats. Believe me we breeders LOVE our cats and their hapiness and health are our first priority.
Your cat may
look like
a Nebelung or another blue breed. Please check the picture below showing several long hair or semi long hair blue cats. They are all beautiful and equally precious.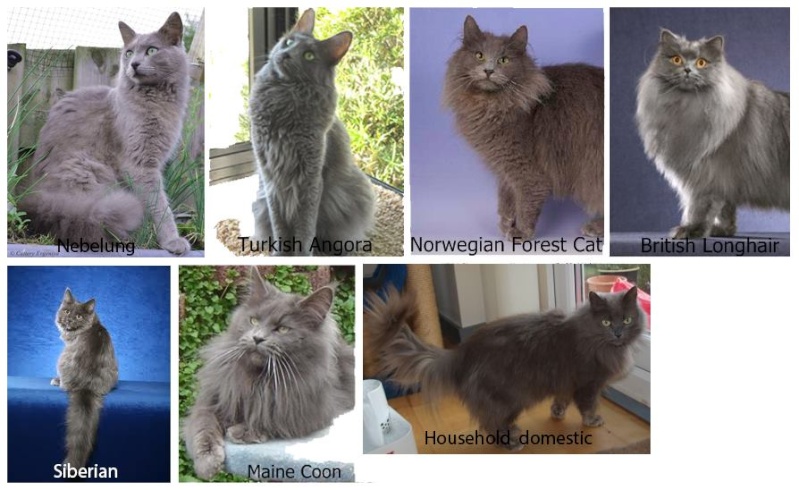 (Thank you Kristina for the picture)
For all those who do not understand this position, please go and visit a catshow where you will be able to meet breeders (of whatever breed).

Talking with them will be much easier and quicker than written communication.

That it might not change your mind does not matter but at least, you will have a better understanding of exactly what breeding entails.
The forum is not very active anymore (and that is an understatement).

We invite you to join the FB group Nebelung Worlwide (pedigree Nebelung only).  You can also join Natural Nebbies or I love my Nebelung where 99% of the cats called Nebelung are simply lovely grey domestic long hair cats.


Similar topics
---
Permissions in this forum:
You
cannot
reply to topics in this forum