Hi,
I have looked at a lot of pages on the internet and from reading what they say about the characteristics of this breed and looking at the pictures i have come to the conclusion that my cat is a Nebelung.
We got him from a rescue centre and his coat is not the right colour at the moment, but is coming back. On his head,shoulders,legs and chest the fur is going a very light grey with a silvery colour at the end
What i am after is someone who can confirm this for me or point me in the direction of someone who can.
Here are a couple of pics to look at.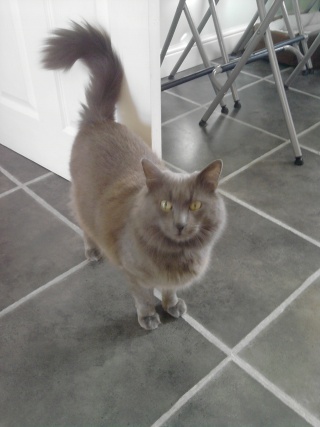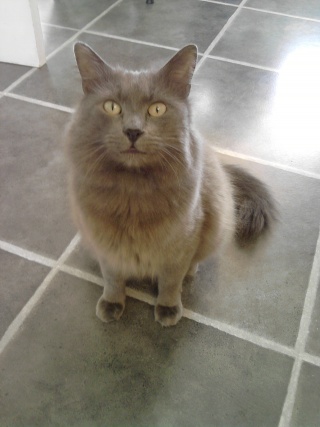 Posts

: 2


Join date

: 2011-02-16


Age

: 43


Location

: wiltshire



What a beautiful boy with an amazing coat! So lucky you found him and vice versa! xxx
He looks like a Nebelung to me! xxxxxxxxxx
hi thanks for the reply ive had a lot of people say hes a russin blue and a british blue and a mixed breed ive done a lot of looking a round on the net im 100% sure he is a nebelung and those people are wrong he is a beauty we love him to bits.



Posts

: 2


Join date

: 2011-02-16


Age

: 43


Location

: wiltshire



Hi Tina I have an uneducated eye as I haven't even got a Nebelung yet but wondering if there is a DNA test that would establish if he is or isn't a Nebelung??? You have a very beautiful cat regardless of his parentage! Is he entire?
Luv Valerie and the furry clan xxx
Hi tina,
Your cat looks like a Nebelung (except eyes should be green). But it does not matter, you found each other and love each other, that is most important.

Valerie, DNA does not work that way.




Posts

: 848


Join date

: 2007-10-13


Age

: 58


Location

: France - Hauts de Seine



Hi Lawrence, I wasn't sure if DNA testing would assertain lineage or not. I know some RB breeders have DNA for short coats as some wouldn't risk breeding anything with long coats :-(
Luv Valerie and the furry clan xxxxxxxxx
DNA does not tell you which breed is a cat. It gives you the genetic identity of the cat. If both parents are DNA identified, you can test a kitten to make sure the parents are indeed the correct ones.

Regarding the other tests (long hair, coulour point, etc.), there are very different from DNA.



Posts

: 848


Join date

: 2007-10-13


Age

: 58


Location

: France - Hauts de Seine





Similar topics
---
Permissions in this forum:
You
cannot
reply to topics in this forum